Summary:
Would you like to own your own Hair Extensions & Hair loss Business?
Then you'll find a massive opportunity here at Need A Hair Makeover & Hair loss Specialist Salon Franchise! You can make a comprehensive difference in someone's life.
We are looking for entrepreneurs who want to invest and open their own hair extensions and Hairloss Salon in their region.
For many people in Britain and throughout Europe, hair loss, thin hair, and damaged hair are a major problem. You can help them to get all the help that they need for a full-on hair makeover with the simplest and non invasive of solutions.

The Market
Did you know that Sales of beauty products in Britain have outstripped France and now exceed £4 billion. The British love of luxury and everyday hair and beauty, including personal care products, shows no signs of receding. Meanwhile, the industry is quick to innovate, including forthcoming hair, hair extensions and personal care product ranges covering "active beauty" and "active hair" tied into the huge health and well-being market, the rise of synthetic heat tollerent hair that feels and looks like real hair, temperature and water-activated products, water repellent and high gloss hair products
The Gap
People today want instant gratification and immediate results. From helping them disguise hair loss by installing quality hair extensions to giving them specialist solution for combatting hair loss. We'll provide you with all the training, tools and knowledge that you need to make a success and you don't even have to be a qualified hairdresser.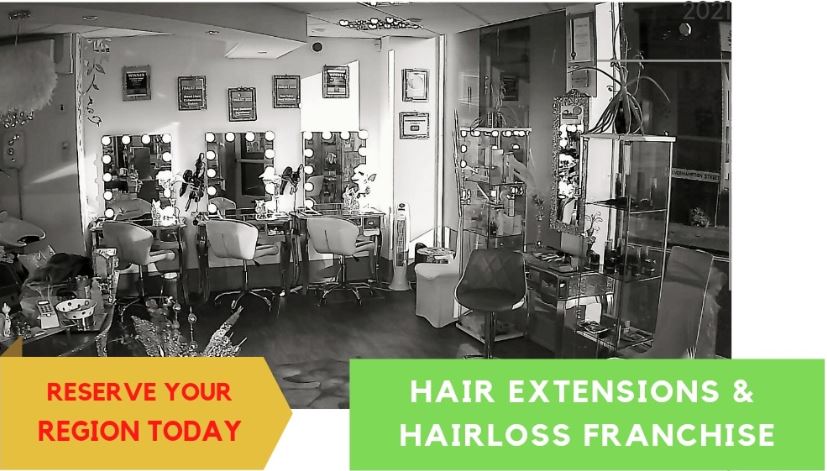 Our Niche Market
Every year, more and more people are suffering from hair loss caused by illness, medication, stress, chemical treatments, and damaged hair. We help treat and / or disguise thin, short, bald patches, damaged or sensitive scalp on all hair types, gender or age. We also have retail supplements and products for treating all types of hair issues.
Our Aims
Need a Hair Makeover the world's first Hair Extensions and Hairloss Specialist Salon Franchise has one key aim. To deliver the highest quality, the most innovative hair extensions techniques and hairloss treatments. To disguise hair challenges using non invasive techniques, supply specialist hair care products, and services to the maximum number of people around the globe in a convenient, affordable, classy, accessible and professional manner.
What's on Offer
Were we will train you, Establish your Outlet, Help you raise finance, Help with Business Planning and Cashflow Projections, Promote you and Support your Business Enterprise under our Brand with a variety of packages to choose from.
Who we are Looking For
You don't need to be a qualified hairdresser or hair specialist because we will train you. You do need to be focused, resilient, dedicated, enterprising, honest, love helping people, responsible, self motivating, a team player, and hard working.
By helping people to care and disguise their hair challenges, you can learn from a specialist salon that gives you access to the skills, tools and credentials needed to run this kind of business with ease and support.
Why buy our Franchise
At Need A Hair Makeover Franchise,  Hair extensions and hair makeovers is a growing business today, and it's a sector that needs more qualified people involved to make it work. If you are passionate about working as part of a Franchise team, then we can help you to set up a fantastic and impressive salon or kiosk that can really deliver a long-term business opportunity for you.
With the help of our unique franchise, you can:
Duplicate a real, genuine business that allows you to help others.
Set up a business that consistently provides an impressive return on investment.
Put together a business that helps you assist real people with genuine needs.
Develop a meaningful career path for yourself that has rewards for years to come.
A service which is massively in-demand across the United Kingdom. From Glasgow to Bristol, Liverpool to Watford this is a genuine business opportunity with a proven chance of success. If you would like to know more about the Franchise and would be interested in setting up your own specialist salon send us an email or give us a call. We can arrange to meet to discuss how we could accommodate each other if the business proposition fits..

There's more to adding hair!
If you'd like to learn more about the Need A Hair Makeover franchise, please get in touch and we'll send you a copy of our franchise prospectus.