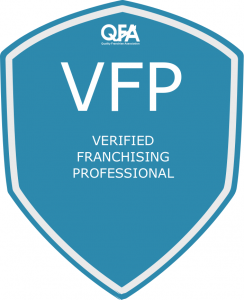 Verified Franchising Professional
All individuals working within franchising are entitled to apply to be accredited as a Verified Franchising Professional ( VFP ). As a standards based association accreditation is a stringent process & to apply you must be able to demonstrate the following;
Min 3 years practical franchising experience
Any other relevant professional qualifications required for your role
Career background summary ( last 10 years )
2 references that demonstrate your franchising experience
Online training pathway
If you do not have the required experience to become a VFP you can also take our VFP Foundation online franchise training course. The online course consists of 4 modules which cover many of the aspects of franchising, testing your competence. The courses include text with diagrams, as well as videos of franchise meetings, to give you an understanding of what to expect within franchising.
With either pathway if successful you will be awarded your certification & will also be able to use the VFP logo & the post-nominal initials VFP to demonstrate to colleagues & clients your franchising experience & expertise.
Becoming a Verified Franchising Professional will not require attendance to any QFA events or any additional costs other than a small, one-off fee to cover administrative expenses ( online training pathway costs are detailed on the platform, link below ).
What if I don't work for a QFA member or I move company?
VFP is a personal accreditation & is open to everyone, not just individuals that work for QFA members. The above process for individuals that do not work for QFA members is the same.
If you are would like to learn more or apply, visit https://franchise-training.org.uk/