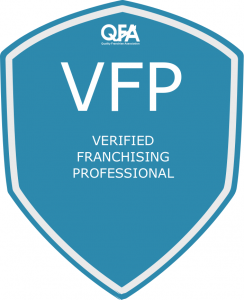 All individuals working within franchising are entitled to apply to be accredited as a Verified Franchising Professional. As a standards based association accreditation is a stringent process & to apply you must be able to demonstrate the following;
Min 3 years practical franchising experience
Any other relevant professional qualifications required for your role
Career background summary ( last 10 years )
2 references that demonstrate your franchising experience
The accreditation process consists of the QFA accreditation panel reviewing your application & receiving acceptable references & takes upto 3 weeks. We may also ask for additional information or clarification regarding any part of your application.
If successful you will be awarded your certification & will also be able to use the VFP logo & the post-nominal initials VFP to demonstrate to colleagues & clients your franchising experience & expertise.
Becoming a Verified Franchising Professional will not require attendance to any QFA events or any additional costs other than a small, one-off fee of £150 to cover administrative expenses. All VFP accredited individuals will be subject to an annual review to retain accreditation, this is free if you work for a QFA member.
What if I don't work for a QFA member or I move company?
VFP is a personal accreditation & is open to everyone, not just individuals that work for QFA members. The above process for individuals that do not work for QFA members is the same, as is the £150 one-off fee to cover administration expenses. The only additional ongoing costs is a small fee of just £49 to cover our administrative costs for your annual review.
If you are would like to apply please complete the form below