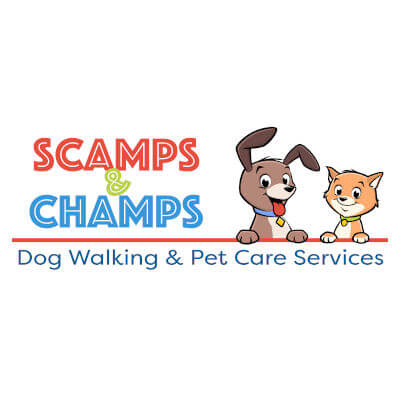 | | |
| --- | --- |
| Name: | Franchise Recruitment Manager |
Summary:
Dog walking, Pet Care and so much more!
Scamps and Champs national network have generated tens of thousands of revenue doing something they love, would you like to join them?
Established in 2009 by pet lover and experienced pet expert Lesley Regan, Scamps and Champs has become a trusted, reliable pet care business. With more than 10 locations up and running, we are now looking for the right people to join our franchise and launch their own local Scamps and Champs pet care business.
What are the benefits of a Scamps and Champs franchise?
This is a HOME BASED, FLEXIBLE business providing an IN–DEMAND service.
Established brand, 10 years+
Experienced franchisor, 10 franchisees+
Full training is provided
Start up kit is provided
Marketing launch is provided
Fully branded webpages provided
Operating manual is provided
Multi-channel income stream
Regular and repeat business income
Ongoing support and training
Home Based
Build a business in your local community
Our business does not require investment in bricks and mortar and offers a low-cost route to launching your business locally.
A full start up and launch kit is provided to our new franchisees, please ask us about this when you speak to us, we are happy to provide you with a prospectus and full details of training and start up kits.

Why join a franchise?
There are many reasons to join our franchise, here are just 5 of them:
Use our established proven business model
Benefit from initial training to get your business off to the best start
Boost your earnings with an established brand
Join an experienced community of pet care business owners
Work for yourself but not by yourself, we are here for you
When you invest in a franchise you will be joining more than 40,000 franchisees who have already benefit from an existing brand to build their own local business. It's a big number and it's a big community with heart and passion for supporting people into business ownership.
Why is now the right time?
We know that this is a time when people are considering their options, thinking about their future and deciding that NOW is the time to do something for themselves, this is what other people are saying when we speak to them:
I've always wanted to set up my own business and it's now or never
I've been made redundant and this is my chance to build a business doing something that I will enjoy
Over the past few months there has been more time to walk and spend time in the open air with my own pets, it's made me think a pet care business is a viable option and one I would enjoy
Getting a better work/life balance is a priority now
Having the opportunity to spend time enjoying the work I am doing has become more important than ever
I've considered this for quite some time and it's now or never!!
Of course, there are many reasons why people find themselves on the path to business ownership, whatever the reason, if you've come this far, the chances are the time is right for you. Perhaps joining a caring well established pet care franchise is just what you've been waiting for.
Why is Scamps and Champs the right choice?
People who choose to join Scamps and Champs and launch their own local dog walking and pet care business join us from lots of different backgrounds. Whether you have been travelling with a corporate career, managing teams, working part time or you are someone returning to work, you'll find, that building a successful pet care business doesn't require previous experience.
Scamps and Champs works so well because we have more than one string to our bow, over time and with the support of our franchise community, we have developed several in demand services for our customers. Many of the services have been developed as a result of a customer request or a franchisee suggestion, we are an innovative franchise and we adapt to the changing needs of our customers.
Here are just some of the services you offer to your customers:
Regular dog walking
Support dog walking (at time when pet owners have challenges)
Pet sitting
Vet visits
Home boarding
Pet feeding and holiday in home care
Whilst many of our pawfect customers are dogs and cats, we offer services for many other pets – we are entrusted with a wide range of much loved pet family members, from rabbits to fish to a much loved parrot – we've met them all!!
This is a business where no two days are the same and where you really can have fun and enjoy life as you build a successful business.
This is a great time launch a business and we are speaking to many people each day, before you go any further you may like to CHECK IF YOUR TERRITORY IS STILL AVAILABLE OR UNDER OFFER:
Did we tell you that you can still earn money when you are on holiday?
This a business which you can SCALE.
Our franchise is a 'management franchise' that means you are offered a business which is genuinely SCALABLE. The business isn't solely dependant on you to provide services to your customers. As you expand your business and to ensure that you still have a monthly income even when you are on holidays or taking time off you will build a team of self employed dog walkers and home boarders. Don't worry you can build this over time and again, we are with you every step of the way and will train you in finding the right people, carrying out the right checks and building a great team.
Of course, there are certain things you do need to join us:
#No.1 a genuine and real regard for the safety, care and welfare of animals
A particular affinity with dogs and cats
An enthusiasm which you can pass on to others as you build your team
Be able to focus on the business part time or full time
Able to learn skills and systems you will need to build your business
More than anything it's about you and what you can bring to Scamps and Champs, many franchisees bring passion, enthusiasm and drive but very few have operated their own business before. That's why we are here to help you, every step of the way.
Scamps & Champs is a business that can be managed part time or full time. You can achieve a work-life balance whilst building a business that you can be proud of. Our dog walking and pet care franchise package offers a ready-to-go business, enabling you to start training immediately. Our franchise can provide a full-time or part-time income depending on your own goals and desires.
We hope you'll find out more. If you care about animal welfare, you know you will really enjoy caring for your customers pets and you can see yourself owning and operating your own local Scamps and Champs dog walking and pet care franchise. Please get in touch.
What franchisees say:
The Next Steps on your journey are:
Checking if your local area is still available
Requesting a prospectus which contains more details