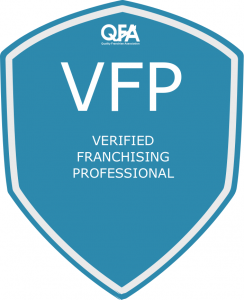 We are delighted to announce the launch of a new franchising professional accreditation, Verified Franchising Professional ( VFP ).
The VFP accreditation is purely based on an individuals background & experience & the ability to demonstrate franchising knowledge & skills attained through practical experience.
The accreditation is available to all franchising professionals & there is a small administration fee of £150 to cover accreditation plus a small annual review fee ( QFA members exempt )
VFP accreditation is stringent & demonstrates to your peers & clients your franchising knowledge & expertise. Once accredited you will be able to use the VFP shield logo on your email, social media & other marketing & also the use of the post nominal initials VFP after your name.
Joel Bissitt, CEO comments "Based on lot's of feedback from my colleagues within franchising our team wanted to create a franchising professional accreditation that was purely based on practical business experience. VFP accredited professionals do not have to attend any QFA events to retain the accreditation which by rights they have earned through their careers."
Existing QFA member? Find out more & apply online here https://www.franchise-association.org.uk/franchising-professional-qualification/
Not a member? Why not apply to join? Full details can be found here https://www.franchise-association.org.uk/join/