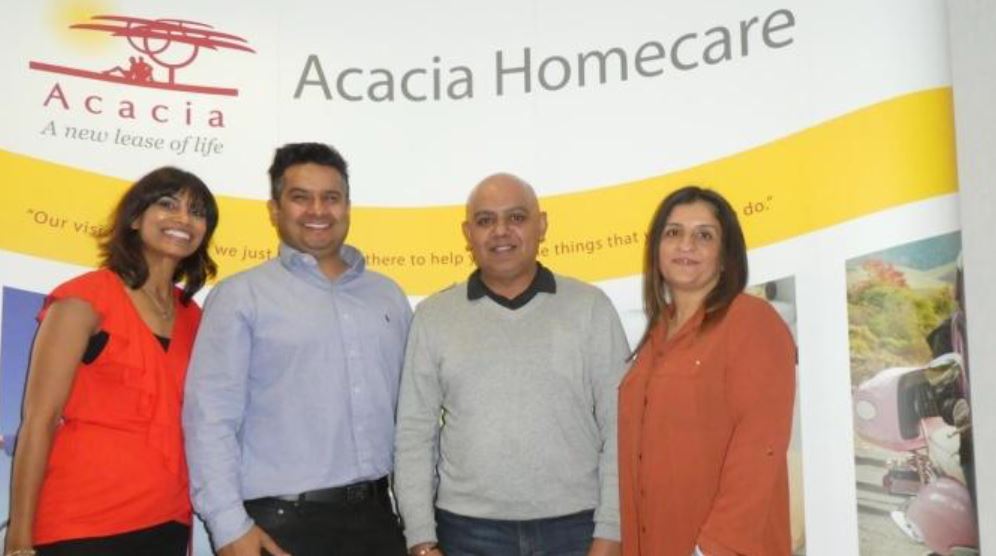 New signing for Acacia Homecare Franchise in South Bucks
Acacia Homecare Franchise is excited to announce the launch of their third franchise, Acacia Homecare South Bucks. Owners, husband and wife team, Jesse and Vicky Kondal signed the franchise agreement on 14th October 2019 and are now in the process of becoming CQC registered. They will officially open their office on 1st November based in High Wycombe and will cover the South Bucks area.
Jesse and Vicky's search for a business opportunity that would allow them to give back to the community led them to Acacia Homecare Franchise.
Jesse says, "Having met Sanj and Minal, I felt that we shared the same values and vision. There is flexibility around owning the franchise as well as room for business growth. We feel there is ample support and having built a natural relationship, we are looking forward to collaborating with the Acacia team as well as putting our foot into the care sector."
Vicky herself has seen firsthand what professional care entails after she saw them take care of her father so it seemed natural for them to enter the care industry.
"I appreciate the environment we are in as well as the importance of care."
Both Jesse and Vicky are keen to make a presence in South Bucks, not only for potential customers who will need the care services they are offering but also to create further employment opportunities in the community.
"We want to continue to provide the services we set out to but also continue to push the boundaries in care and ensure that both the customers and staff are at the forefront of everything we do."
Having hired a Care Manager and getting the wheels in motion, Acacia Homecare South Bucks have already begun their journey and well set on making a difference in their region.
Acacia Homecare South Bucks joins Acacia Homecare Northwest Surrey and Acacia Homecare Stockport and Manchester in the Acacia Homecare Franchise network.
Acacia Homecare aims to become the standard to which care is measured. Our mission is to grow responsibly to become the best provider of care to the private sector, by offering high quality care from a mature, well trained, experienced and happy team. We aim to be the market leader in recruitment, pay and staff development to ensure that the team can provide the level of care we would want for our own families.
If you would like to find out how you can start your own Acacia Homecare business, please view the Acacia Homecare profile.