QFA expands team, benefits & support throughout the COVID-19 pandemic to support franchising community
It's just over a year ago now since the start of the pandemic. No one was ready for the effects of the pandemic on business or society & it has been a real challenge for many businesses including many within the franchising community.
The QFA quickly realised that some members would be severely affected & would need even more support to get them through the pandemic. Within weeks we had more than doubled our team, increased our free webinars & provided free practical support & guidance to members including operational, legal & financial. In the infographic below you will see some of our major achievements to support our members & the wider franchising community.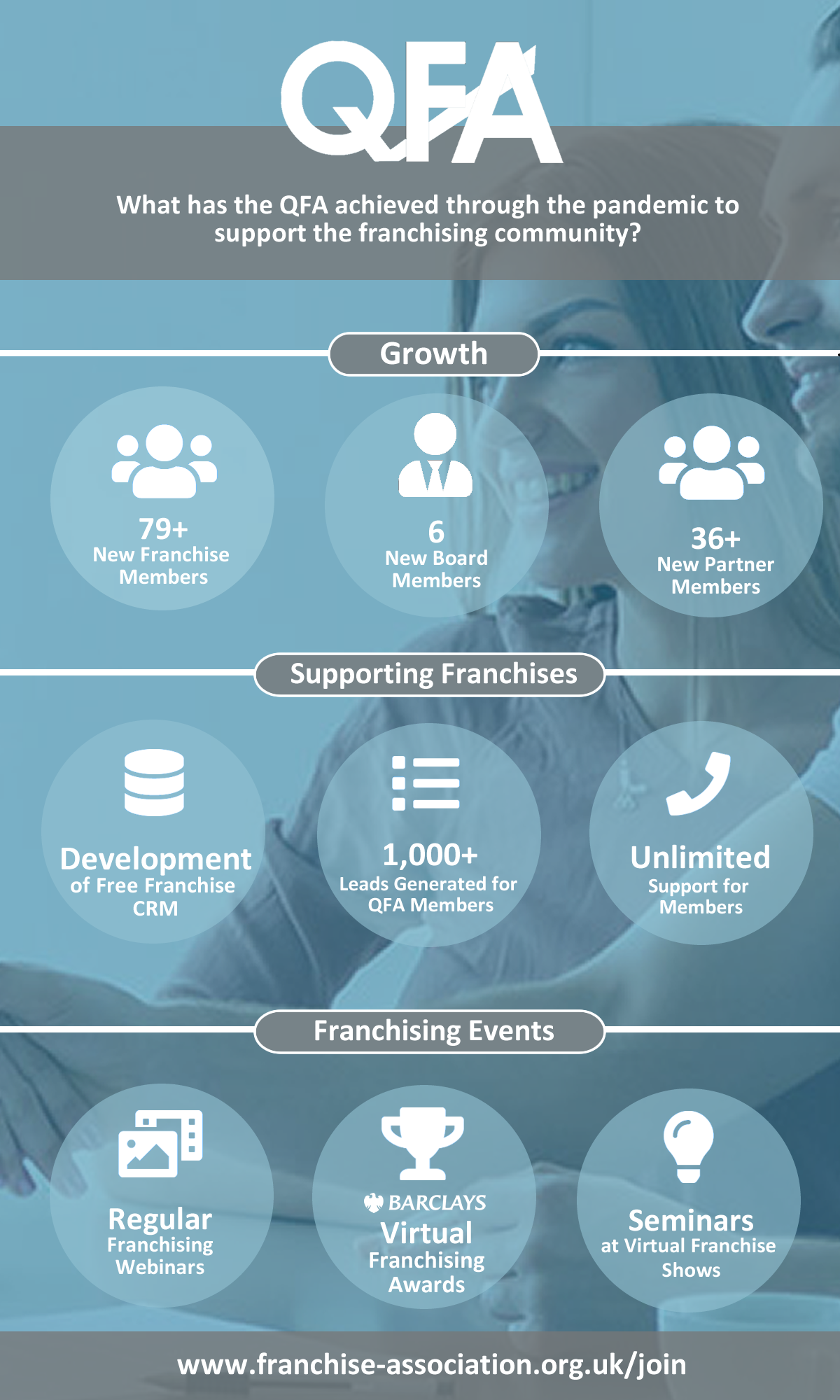 Joel Bissitt, CEO comments "Having been an entrepreneur for over 30 years since the age of 19 I have run businesses through recession before but I have never seen anything like this effects of the pandemic. We needed to quickly increase our team & support to rise to the challenge. We grew our team from 4 to 11 & increased our support webinars. Through our support group we provided updates on the JRS, loans & provided unlimited professional advice including operational, legal & financial. Members pulled together to support each other which has also strengthened our community. Through the period we introduced more ways for members to communicate including our free Android/IOS app"
"Other major achievements through the pandemic included sponsoring the UK's first virtual franchise show to provide franchisors with the opportunity to exhibit when all the face to face shows more postponed. Thanks to the sponsorship by Barclays we were also able to launch the UK's first Virtual Franchising Awards which attracted over 170 entries. The awards are the first virtual awards in the UK & the only awards that are both free & open to the entire franchising community, promoting franchising to a wider audience"
"Our team are planning more new initiatives to support the franchising community & we are very confident that franchising will grow rapidly & be a major contributor to the UK economic bounce back & future growth"