Franchising off to a flying start in 2021 with continued growth of the QFA
Interest in franchising has grown considerably since the start of the pandemic & this trend looks set to to continue in 2021. We have seen a huge increase in traffic & franchise recruitment enquiries via the QFA website & UK Franchise Opportunities, the official franchise directory of the QFA in Q1 of 2021. We are also handling more enquiries from businesses that are considering franchising & the QFA are about to launch several new initiatives to provide free advice & guidance for both prospective franchisees & franchisors.
Our membership also continues to grow rapidly & we are delighted to welcome new members of 2021 as below;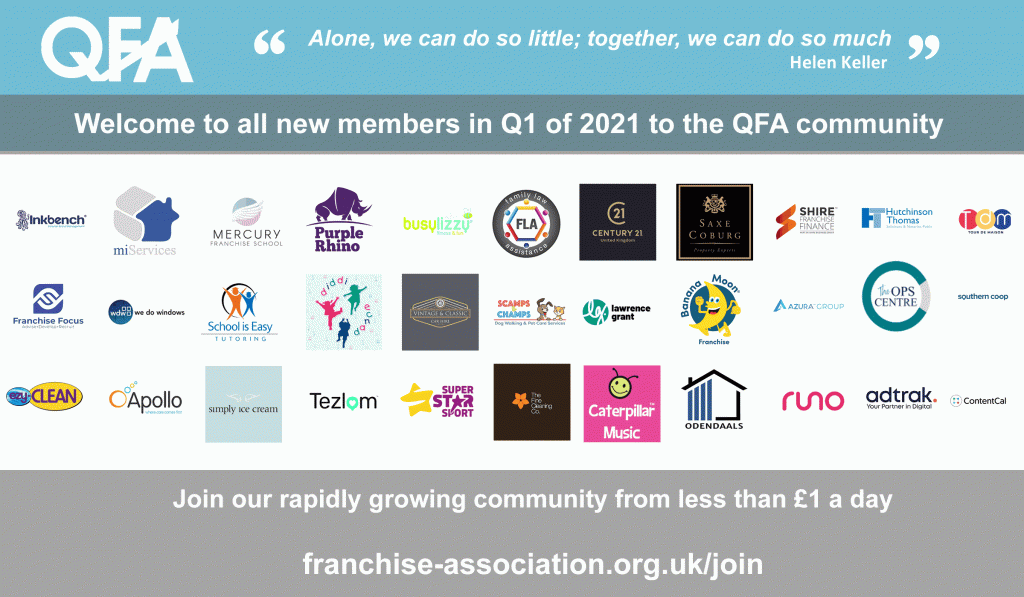 In 2021 enquiries from prospective franchisees asking whether the franchise they are researching is a QFA member & follows the QFA Code of Conduct has more than tripled. This demonstrates our continued growth in brand awareness & that both members & prospective franchisees share our values. As a standards based franchise association with a strong code of conduct & thorough accreditation process the continued recognition & acceptance of the QFA Code of Conduct by leading franchise brands that share our values is accelerating our growth & enabling us to launch many more initiatives to support the franchising sector.
Joel Bissitt, CEO comments "The support from members & our Board has been truly remarkable & we have got off to a great start in 2021. We are handling many enquiries from prospective franchisees asking if the franchise they are considering buying is a QFA member & follows the QFA Code of Conduct which is very rewarding. We are about to launch several new initiatives to further support & grow franchising to support the increasing number of enquiries we are receiving."
Find out more about QFA Membership