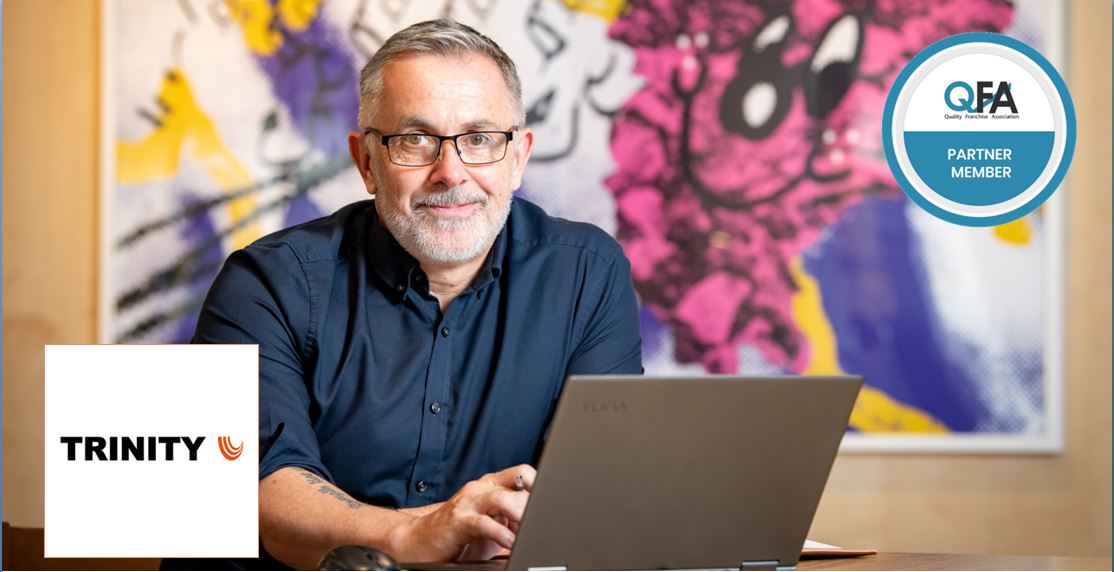 The Quality Franchise Association are delighted to welcome TrinityU to our team of partners, determined to help your franchise network thrive.
TrinityU are franchise development specialists with over 20 years worth of experience in the franchising sector. Knowing what makes a franchise network successful are the foundations of the support TrinityU provide, helping hundreds of businesses across the UK.
Adam Davison (pictured) is founder and CEO of TrinityU, and in this interview, Adam explains a bit about himself, the business, and how TrinityU has helped franchises like yours, build stronger links between their franchisees and franchise management.
Interested in finding out a bit more about how TrinityU can help your franchise network? Click below to get in touch with Adam for a no obligation chat, to better understand your business model and requirements.
1) Please tell me a bit about yourself. What is your role with Trinity U? 
After 15 years working in manufacturing and logistics across the Northwest of England, I started my career in the world of franchising in 2002. During this time, I was both franchisee and a franchisor before becoming a Business Development Manager in both global and UK based franchise companies.
Travelling and dealing with businesses and business owners across continents, meant I gained invaluable insights into what makes a small business owner successful and more importantly the things that can limit that success.
In 2018 I launched TrinityU. My vision, to build a business designed to work alongside franchisors.  
Working alongside developing a successful franchised brand.
My role within TrinityU is to help build relationships with partners, understanding the outcomes they want to achieve and then creating bespoke cost-effective support packages for their franchise and franchised network that deliver growth and increased revenue for all concerned
2) Who are the people involved with TrinityU?
TrinityU has three shareholders each bringing a specific skill set to the business. All are based around business development, self-development, and professional governance. In addition, we have a nationwide network of business professionals.
Each professional has a specific area of expertise, and each is experienced with supporting small independent business. The TrinityU business model enables individual franchisees support in areas of business management not covered by the franchisors business model.
3) Where are you based?
The company is based in the Northwest but with the use of virtual platforms complementing face-to-face appointments to communicate effectively there are no barriers to where we work. 
We have clients based all across the UK including Glasgow, Plymouth, and Norwich.
4) How does Trinity U support the franchising sector?
Over my time in franchising, I have worked with over three hundred franchisees in all aspects of their business. Helping develop achievable business plans as they begin a business journey, or helping more established franchisees re-engage with their business after years of living on the business hamster wheel (when they are running around on a day to day not achieving the outcomes they want). Experience has taught me that the major challenge for any franchisor was how to successfully manage a set of independent business owners, a survey showed that 80% of franchisors have withdrawn from the UK market over the last 30 years! In my opinion, the major factor causing this has been the lack of support for franchisees entering a network.
They may all have the same model to follow but because of the individual skills of each and the differing aspirations each franchisee can run a completely different business.
I have observed that successful franchisors had excellent support structures in place which flex to meet the individual business owner. This is then a challenge for small franchisors, how can you implement a successful support team when the management fees gained do not support , this is where TrinityU comes in.
5) What does TrinityU hope to achieve in the next 5 years?
As we move through the 2020's there are going to be many challenges ahead for businesses that want to franchise.
These last three turbulent years have shown that you need to have the right processes, structures, and people in place to ensure a business can adapt and survive to the changing business environment.
TrinityU wants to be in the position to help franchisors develop these internal structures and make sure that their franchisees benefit from the business model from day one.
6) What brands have you worked with in the past and how have you helped them to thrive?
Over the last 15 years we have worked in, and alongside, Cartridge World, Signs Express and Countrywide Signs. In each of these businesses there have been challenges in the marketplace and internally as well.
However, those challenges have highlighted that the franchisees who thrive within a franchised system are those that, follow the model, call for support when needed and are engaged with the brand.
In each case TrinityU has helped establish that infrastructure to help this process within a strategic plan set by the franchisors and then help individual franchisees achieve the outcomes they want that are in line with the brands vision.
7) What is your favourite quote and why?
"I'm convinced that about half of what separates successful entrepreneurs from the non-successful ones is pure perseverance" – Steve Jobs.
In any business I have ever come across there are challenges daily. The one constant is the unexpected will happen and to me it's how you deal with this, whether it be in business or at home. If you have that ability to ride the waves, then you will be successful
8) What are some of your hobbies and interests?
Outside of work there is a lot of dog walking (thanks to my 1-year-old Springador called Archie), a lot of training as I am an Olympic Weightlifter who still competes with other oldies and then there are duties as a Grandad to two little lovely monsters (2 & 6), which means I am kept busy!
Interested in finding out how TrinityU can help your business? Get in touch with Adam today to learn more about how TrinityU can help your business.