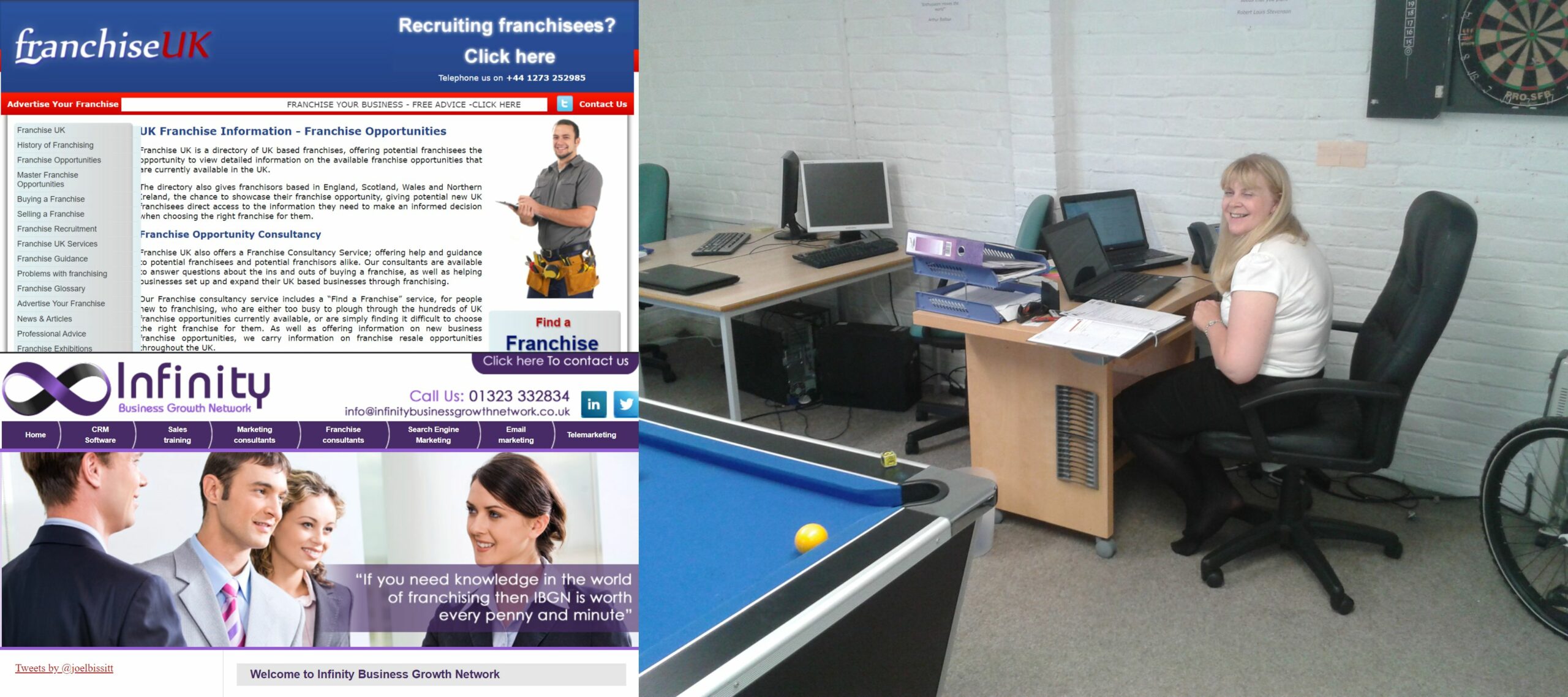 It's our 9th Birthday at Infinity Business Growth Network Ltd which owns Franchise UK! This is where we began, in our garage! Read our story..
9 years ago after struggling with depression for almost 2 years & coming out the other side thanks to the support of my family I needed a new goal. We had a small amount of savings to invest & my only business asset was the Franchise UK website, which after years of neglect looked poor & was not performing in search engines. I needed to invest significantly into the website to compete but could not raise any finance, I needed a different strategy, I did not want investors so I was going to have to earn the money I needed to invest & grow.
The offices you see are my garage, a good size but VERY cold in the winter! Despite her recent diagnosis with MS my wife & co-founder Sarah, sitting at my desk here helped me put together the launch plan & organise the office. I knew this would be a long process & not being a patient person I had to remind myself every day we would reach our goal. If you look top right of the photograph you will see part of this quote that sat above my desk for years "Do not judge each day by the harvest you reap, but by the seeds that you plant" Robert Louis Stevenson. I read this every morning & before I left every evening, focusing on my tasks achieved towards my goal, staying motivated.
The first Infinity Business Growth Network – Franchise Consultants website you see here cost me £299. It was a flat html website with hardly any functionality but it would serve as a brochure for me to pick up consulting business to re-invest. Our first year was tough, money was tight at times & we made a small loss. By the 2nd year I started to turn things around. I picked up several consulting projects, some franchise consulting, some general management & marketing projects. I invested everything back into Franchise UK, signed up with a small SEO agency & we started to see some results.
In the 8 years that have followed we have grown each year. Turnover, profit & balance sheet have all grown 8 consecutive years despite the pandemic. Each year we have increased investment back into Franchise UK, to continue to deliver results for our advertisers plus made some strategic acquisitions including Franchiseek which has now expanded further with the launch of Franchiseek SA in South Africa plus several other launches planned.
Advertise your franchise 24/7 from less than £4 a day https://www.franchise-uk.co.uk/franchise-advertising/ plus an extra 10% discount if you are a QFA member!