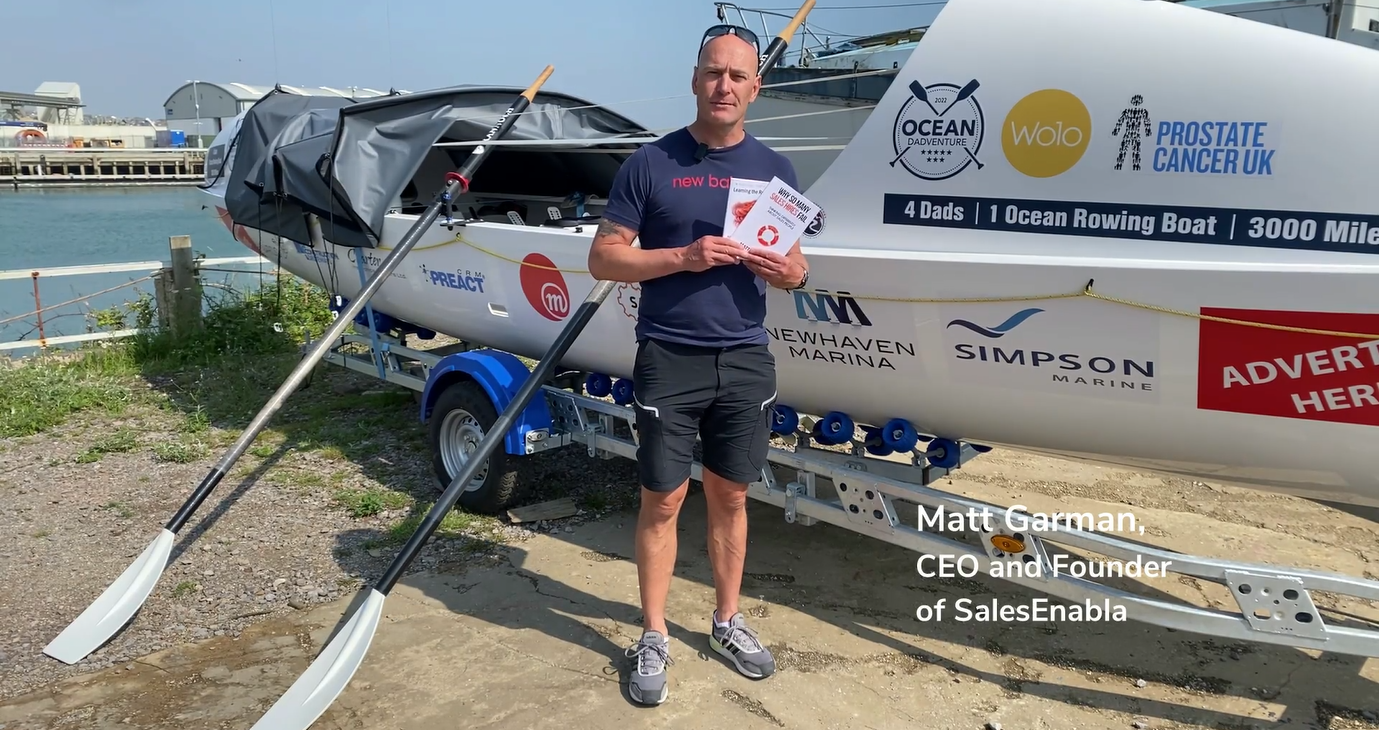 Leading Sales Consultancy Franchise SalesEnabla Join The QFA.
Learn more about SalesEnabla and the challenges Matt Garman is undertaking for charity.
When Matt Garman left school early to work on a fishing boat, he would have laughed at anyone who predicted he'd be the author of three books, a sought-after speaker and a successful business owner.
The secret, Matt says, is learning from everything you do and everything you see. This wealth of learning has gone into the very heart of SalesEnabla, his online sales enablement platform.  Soon after launching in 2018, he knew it was the ideal tool to help businesses achieve their aspirational objectives and fulfil their true potential. He uses it in his consultancy business to ensure his clients have the tools they need, even when he's not physically there to help them.
Having to transfer a lot of his work to the virtual space, running workshops on zoom and conducting mentoring sessions remotely, emphasised how important it is to be flexible and resilient in order to survive.  Running his own business gave him the option and control to adapt and flourish, despite the constantly changing circumstances.
Early this year, as business started to open up, he realised how many needed help quickly, to grow and adapt or go under.  Unable to service the number of requests he was getting, Franchising offered the potential to help businesses who needed a good sales process, and offer an opportunity to people who might be looking for a new role after the lockdown months.
The SalesEnabla Franchise gives every Franchisee the chance to make their own decisions.  Now, more than ever before, people need a healthy work life balance and businesses need fast and effective help.
As a successful consultant, Matt knows that the early days are the hardest. Getting the first client can be tough and building a client base can take months.
He wanted his Franchise to be a complete offer, designed to help every Franchisee and accelerate their consultancy business from start-up mode to profitability from day 1.  They have access to a complete sales methodology and the sales enablement platform, ready to personalise for their clients.  Paid marketing, lead generation and comprehensive training with hints and tips on how to approach and win new consultancy business.
The SalesEnabla online enablement platform is the key to demonstrating credentials for a new consultant.  The Toolkit and Playbook are filled with sales knowledge, tools, tips, checklists and experience. Providing the basis for a review of any business, they help identify key roadblocks that may be stagnating growth, slowing sales and eroding profit.  An instantly visible roadmap, SalesEnabla shows how the Franchisee deliver the desired outcome for the client. It's the perfect foundation for the unique skillset and experience, of each Franchisee.
Matt's vision for the Franchise is to help businesses and Franchisees achieve their aspirational objectives and fulfil their true potential, but it's not all about money.
An experienced consultant, Matt is able to create exactly the work life balance he wants.  He is currently training with his teammates who have entered as Ocean Dadventure, into the Talisker Whiskey Atlantic Challenge, 2022.
They will row 3000 miles across the Atlantic from La Gomera to Antigua. Facing huge 40ft waves, freezing conditions, cramped sleeping quarters and the knowledge that their next rowing shift is due almost before they've had a chance to rest. They aim to complete the journey in 40 days, on a brutal shift pattern. Working in pairs, 2 hours on, 2 hours off, 24 hours a day, 7 days a week.
With a maximum 2 hours available to sleep when not rowing, for approximately 40 days (and nights), exhaustion in Antigua is guaranteed!
To build on what he started, when he entered Ocean Dadventure into the race, he has introduced a philanthropic initiative as part of the SalesEnabla Franchise offer.
Ocean Dadventure are supporting two charities: Prostate Cancer and WOLO, and for every SalesEnabla Franchise taken up, Matt will donate £500 to each charity.